We only appreciate just how much we need a good night's sleep when we've spent an evening tossing and turning. So, a comfortable bed is often the key to a revising night's sleep. Choosing the right mattress product, be it a mattress pad vs mattress topper can be complex and frustrating. Just what is the difference between them and why do they matter?
What Is Mattress Pad And Mattress Topper?
Many salespeople use these two terms interchangeably. However, these bedding accessories are very different in their design. A mattress pad is a thin, quilted fabric cover that fits over your mattress. It offers a little protection against light moisture issues. A mattress topper is a thick padded layer that sits on the top of your mattress to give you extra support together with a lovely feeling of plush comfort.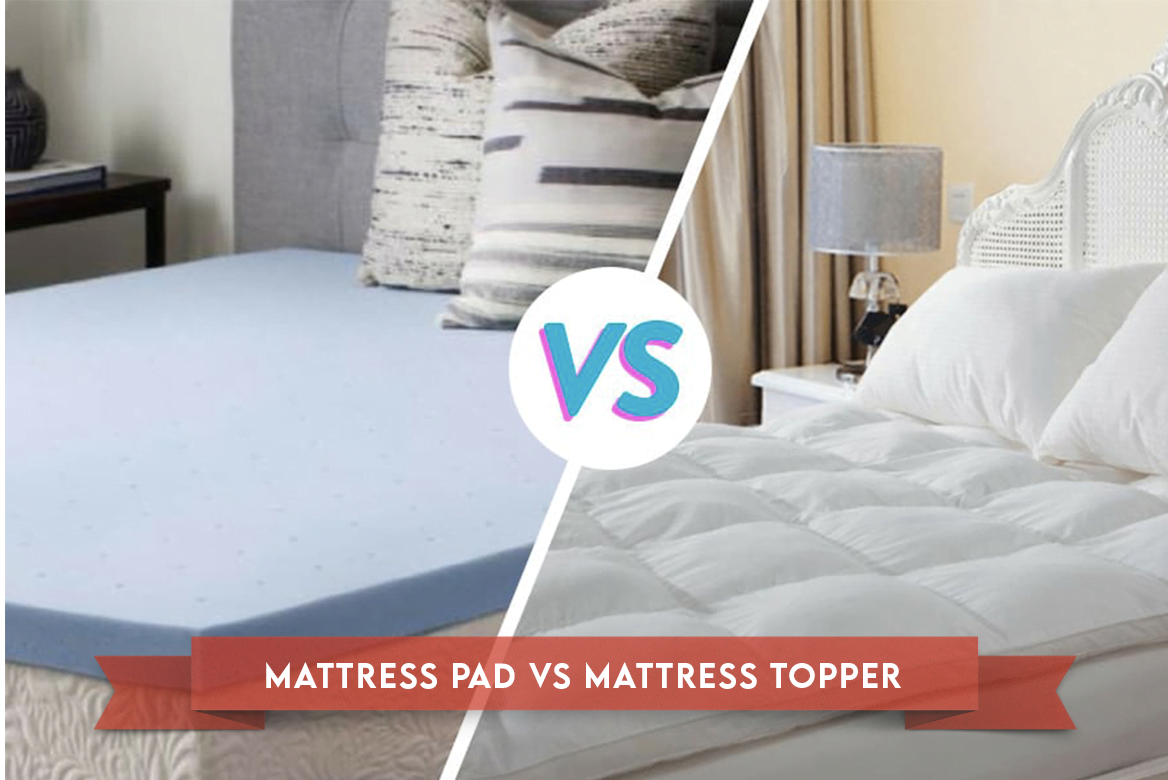 Mattress Topper Features
A mattress topper is designed to enhance the comfort of your mattress. Toppers are available in a range of different thicknesses. Some models are ventilated for extra airflow.
Pros
Additional comfort without having to buy a new mattress
Can restore a sense of firm support
Extends the life of your mattress
Cons
Can be expensive
Offer less protection than a conventional mattress
Less stable so it may slide on the mattress as you move
Lacks the heating and cooling options of mattress pads
Types Of Mattress Topper
There are many types of mattress toppers on the market. Some of the most popular types of mattress toppers are made from memory foam or latex:
Latex Toppers: Versatile and eco-friendly, this option enhances the firmness of the mattress. Their downside is the high price and a slow bounce.
Memory Foam Toppers: Durable and conforming providing excellent body support. Their downside is they retain excess body heat. Can also come with an unpacking chemical odour that can trigger allergies
Wool Toppers: Best insulators for scorching summers with a soft and luxurious feel. Also hypoallergenic but are expensive
Feather Toppers: Made using goose feathers providing a plush feel. Great for softening an over-firm mattress. Not the best option for allergic sleepers
Fibre Toppers: Mimic the feel of feathers but they use hypoallergenic materials. They are quite supportive and inexpensive.
Wool Toppers: Durable and provide a balance to both summer and winter sleeping temperatures. Can be hard to keep in place on top of the bed.
Can I Use A Mattress Topper Instead Of A Mattress?
Ideally, you would use a mattress topper in conjunction with a mattress. However, a topper may suffice, depending on what you place under your 4″ topper, how much you weigh, how you sleep, and how long you need your mattress-substitute topper to last.
The two key things everyone needs from their mattress: is pressure relief and back support. Pressure relief is what keeps the parts of your body that push into the mattress from developing a loss of circulation or soreness, particularly in your shoulders and hips. Back support keeps your spine in a neutral position while you sleep so that the small muscles in your back don't have to work overtime all night.
Can I Use A Mattress Topper On The Floor?
A flat surface is an appropriate foundation for your mattress. So, positioning it directly on your floor shouldn't be a problem. However, there is a reason why beds, box spring bases, and mattresses are part of our sleeping experience. It's not good for your back or your shoulders and hips and can reduce the life expectancy of your mattress topper.
Mattress Pad Features
A mattress pad is a thin quilted cover featuring soft fibre-filled pockets for enhanced comfort. Its cover is made from washable fabric and it is held in place by elastic straps.
Pros
Adds a thin layer of softness which changes how the mattress feels
Provides additional protection for the mattress against moisture, stains and wear and tear
Fits snugly over a mattress
Easy to remove and launder
Cons
Does not provide additional firmness for the mattress
Types Of Mattress Pad
Mattress pads come in several different types. The most popular versions are:
Cooling Pads: Some use a liquid system, while others have a fan to blow cold air through the bed. These can be quite expensive
Heated Pads: These are fitted with a heater to keep you warm and snug during the night
Fitted Pads: Designed to fit your bed and stay firmly in place
Anchor Pads: Feature four anchors attached to underneath the corners of the bed for a resilient fit
Guaranteed To Fit Pads: Ultimate in fit for your mattress as they expand perfectly to fit any size bed.
When To Use A Mattress Pad Or A Mattress Topper
So, the key question is can a mattress pad and a mattress pad used together? The answer is yes, depending on what sleeping environment you are trying to create.
Go with mattress pads when you want to:
Protect your bed against moisture without opting for a mattress protector
Muffle the noise of your mattress protector
Adjust the firmness of your mattress
Try a mattress topper when:
You need extra comfort or support
Your present mattress is old and uncomfortable but you are not ready to replace it
You want to limit the mattress motion caused by your partner
What Is A Mattress Protector?
A mattress protector is a removable bedding option that covers a mattress to protect it. Some mattress protectors also provide additional hypoallergenic protection for the mattress from allergens and irritants triggered by old dead skin, bed bugs, dust mites and mould.
Conclusion
Choosing between a mattress topper and a mattress pad ultimately comes down to your personal preference together with how you need to change your mattress. If you are looking to alter the overall feel of your bed, a mattress topper is preferable to a pad.
However, both a mattress pad and a mattress topper are helpful in creating a supportive experience in tandem with your mattress. To reshape your sleeping surface try combining a pad with a topper. The result will be a fabulous and delightfully relaxed night's sleep thanks to their wonderfully comfortable feel.